Survivor Gas Mask Respirator Filter Cart...
$56.99
$69.99
For professionals working in high-risk work environments, our Mollywhopper Survivor Gas Mask Respirator Filter Cartridge Replacement RD40/40mm NATO Fitting is a need. Often used for work such as painting, staining, car spraying, sanding, and cutting. Take a deep breath wherever you are. Working in a dangerous environment? There's a good probability that you're exposed to a variety of health risks whether you work in mining, construction, emergency response, or agriculture. If you're always considering the fumes, smoke, waste, flying objects, and rubbish around you, it will be impossible for you to remain concentrated and productive. Invest in robust personal protection equipment that can handle the demands of your profession to ensure that you are always safe. Whenever and wherever, clean air. Whether you're operating a rescue operation in a burning building or working in an underground facility, get quick and easy access to pure air. The 40mm threaded connector on this filter canister is designed to fit the majority of standard-sized gas masks. The filter may neutralize hazardous gasses while removing up to 95% of airborne particles. Additionally preventing a range of non-oily particles from entering is the extremely absorbent cloth. Highly effective activated carbon filter. If you operate in a demanding and dangerous field like firefighting, emergency response, or even the military, smoke, gases, and scents can be a big distraction and a source of danger. Strongly activated carbon particles, which are frequently employed in air and gas purification procedures, are present in this filter cartridge. Filtering away organic gases like benzene, benzol, chlorine, and carbon disulfide. You can store many of these filter canisters without worrying about damage or contamination because they are each individually packaged for increased protection. With a three-year shelf life, you can store as much as you need to ensure that you, your coworkers, and even your family will have quick access in case of an emergency in the future. When not in use, the canister should be kept in a cold, dark, well-ventilated area. Simple to Install & Use. Please make sure you select the appropriate filter for your workplace before making a purchase. Turn the gas mask's nut to activate it, then pull the plug open. To securely attach it, tighten the threaded connector by rotating it counterclockwise after aligning it with the mask aperture. Utilize safety gear from a reputable brand to survive hazardous scenarios. Your comfort and safety are both taken into consideration while designing our filter cartridges. The majority of full-face respirators are compatible with the conventional 40mm size. Even after continuous use, it won't feel uncomfortable due to its small weight. Statements regarding dietary supplements have not been evaluated by the FDA and are not intended to diagnose, treat, cure, or prevent any disease or health condition.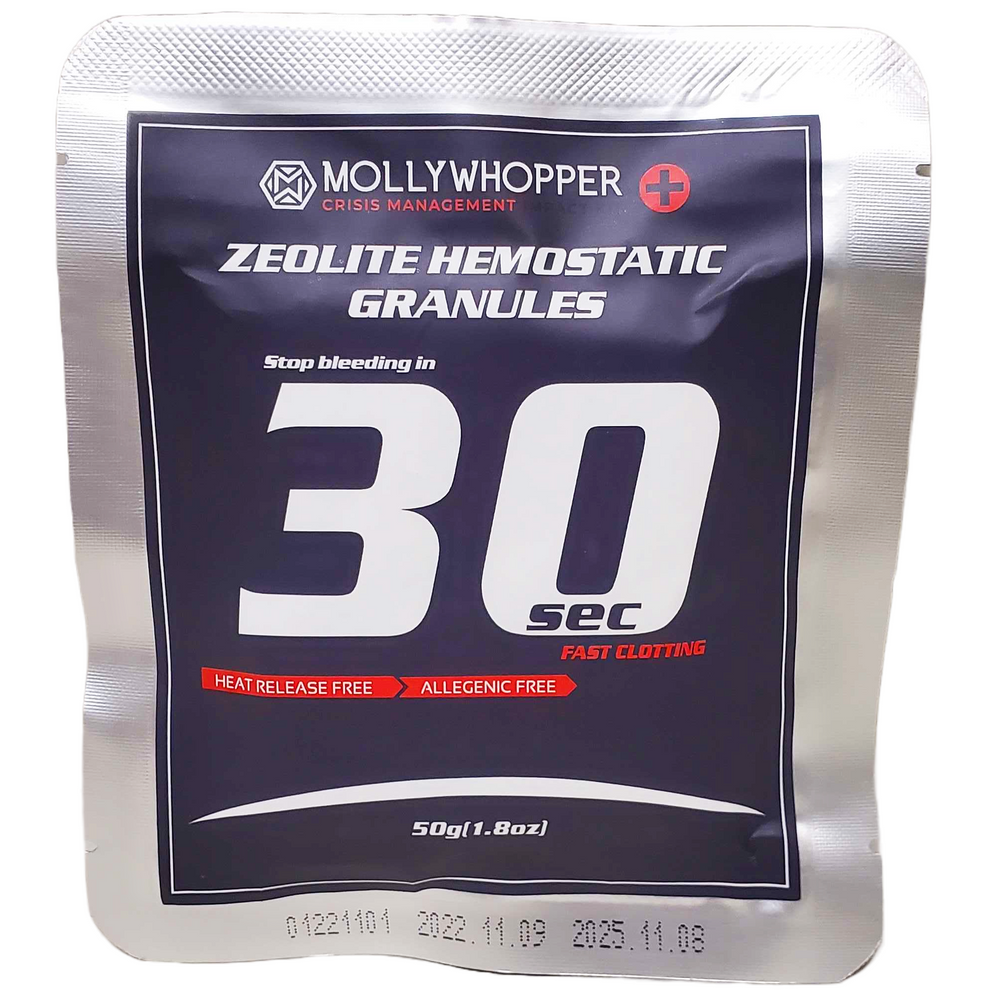 Mollywhopper First-Aid Zeolite Hemostati...
$59.87
$82.42
With Mollywhopper Zeolite Hemostatic Granules, you have the power to stop bleeding in the palm of your hand. The fast hemostatic dressing is a disposable granular molecular product that has been sieved into non-woven bags for arterial hemostasis.  Tested and proven, Mollywhopper Zeolite Hemostatic Granules can be depended on to save time when every second counts. Within 30 seconds, this medicine can effectively stop the bleeding from leaking arteries.  The Zeolite Hemostatic Granules work on contact to stop bleeding by accelerating your body's natural clotting process. This pack contains one Mollywhopper Zeolite Hemostatic Granule clotting pouch. This item is packaged in a unique non-woven material that can be used to treat bleeding various wounds.  Mollywhopper Zeolite Hemostatic Granules pouches are absorbent, flexible, and pliable, easily contouring to wounds and allowing you to get to the nearest medical center.  Make Mollywhopper Zeolite Hemostatic Granules a part of your trauma kit or first aid kit so you're prepared when emergencies occur. Police officers, soldiers, and many others can utilize it to undertake self-rescue techniques as well as other rescue operations. It is also extremely relevant to all forms of trauma and injuries brought on by knives and guns. As a result, it can stop trauma-related harm and death. The pouch has 50mg of Zeolite Hemostatic Granules and measures 4" x 4". Sterility is guaranteed unless the package is opened or damaged. Solves impeding fatal bleeding and hemorrhaging on the spot, Fast clotting Heat Release Free, No burning Effective for traumatic arterial and venous bleeding Performance is equivalent to clotting gauze Instructions For Use: Clean the wound. Tear open the package and take out the pouch and place it on the bleeding site. Apply pressure directly over the bleeding source. Wrap and tie a bandage to maintain pressure. Seek medical care immediately.  Utilized by EMS/first responders, the military, law enforcement, the general public, and outdoor enthusiasts Completely compatible with first aid kits, suture kits, medical kits, iFAK pouches, EDC pouches, and survival kits Travel securely with a first aid kit in your car, camping necessities, and a backpack emergency kit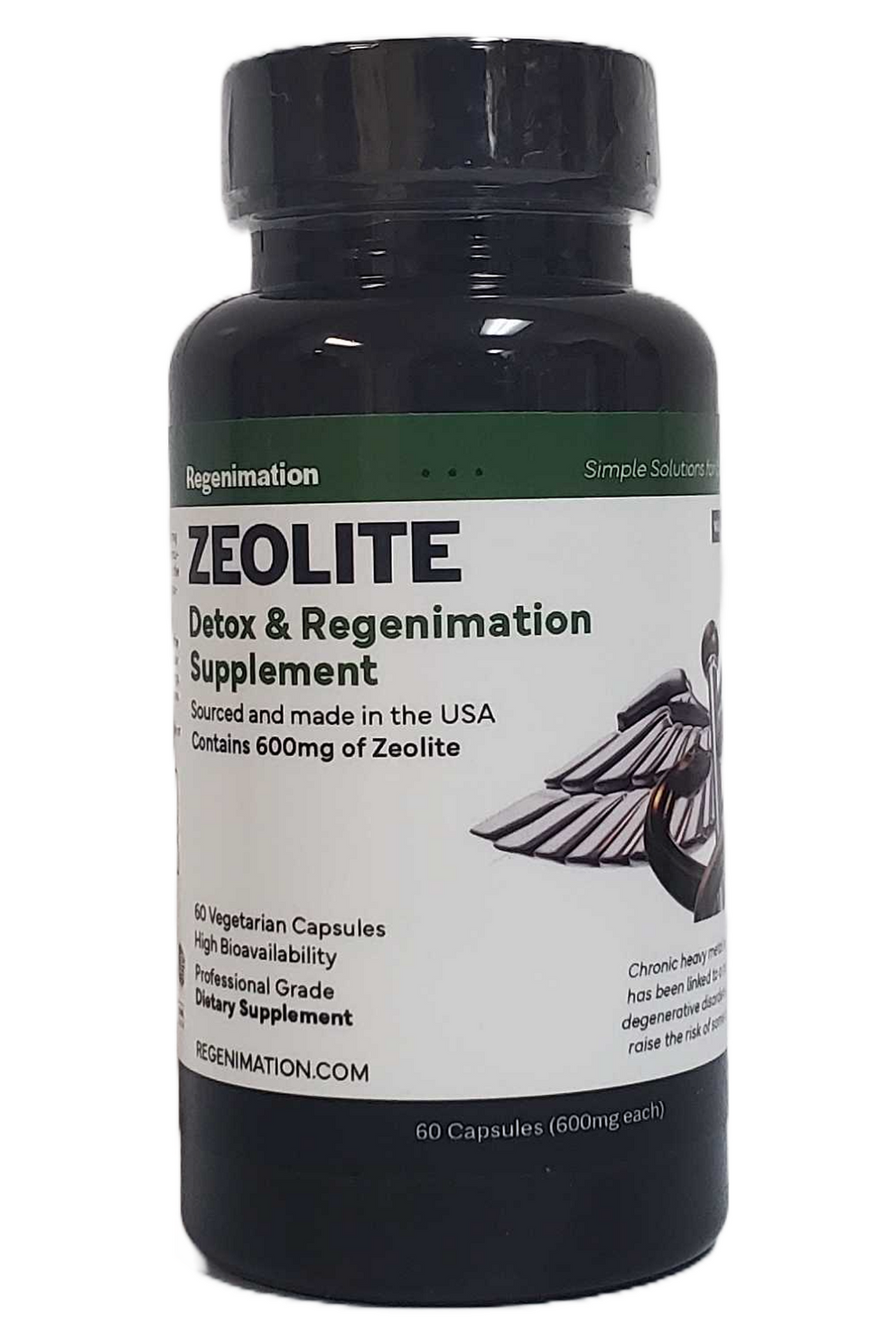 ZEOLITE Heavy Metal Detox Regenimation S...
$21.99
Zeolite Detox, 600 mg per serving, All Natural Zeolite Heavy Metal Detox Supplement. Found in volcanic rock, Zeolite may help to remove toxins from the body such as mercury, lead, arsenic, and pesticides, as well as the common radioactive isotopes found in nuclear fallout. Zeolite can successfully target and remove many different harmful materials, like heavy metals and Graphene Oxide toxins, which are often mixed into other chemicals or vaccines. It is the go-to answer for radiation exposure. Zeolite is 100% safe and natural. It's the volcanic mineral Clinoptilolite. It has a honeycomb-like structure and a negative ionic charge. This leads to only attracting positively charged toxic heavy metals, which are then naturally targeted and quickly trapped as they bind together into the honeycomb. NOTE: The possible Graphene Oxide from vaccines will also bind to the zeolite. These toxins then safely pass all the way out of one's system. No worries though because none of the body's beneficial minerals are removed by Zeolite! Zeolite is the world's best heavy metal detox supplement on the market. Zeolite offers huge advantages when compared to the chemical heavy metal chelation therapy product known as Ethylene Diamine Tetra-Acetic Acid (EDTA). No blood work testing is required when detoxing with Zeolite since it is extremely safe. In comparison, blood work and kidney function tests must be performed multiple times when using EDTA as it can cause kidney damage, kidney failure, and anemia. Zeolite additionally removes toxic radioactive heavy metals, including Gallium, Strontium, Plutonium, and other sources of contamination due to nuclear radioactive fallout. Zeolite is the absolute best method for removing Thimerosal, or mercury, often found in vaccinated individuals. It also separates toxic mercury from those who have had dental amalgams, either before or after surgery. PROCESS: Once the zeolite has bound to any found heavy metals after ingestion, it is then excreted through both urination and bowel movements. Throughout this process, heavy metals are not reabsorbed back into the body-effectively and permanently leaving one's system, without any fear of re-contamination. Our approach is much different from EDTA and the many plant-based solutions (like chlorella, cilantro, citrus pectin, spirulina, milk thistle, and seaweed), which often re-introduce toxins on their slow descent out. This is why Zeolite is proven to be far superior when compared to all other products presently found on the market. When built-up heavy metals that often suppress immune systems are removed from the body, our immune systems can actually grow stronger! A bonus when taking Zeolite is that it also helps to balance our pH levels to their healthy norm. BOOST YOUR IMMUNITY NATURALLY ... SUPPORTS A STRONG & HEALTHY IMMUNE SYSTEM! Benefits of Zeolite • #1 Heavy Metals Detox (Safely Removes Mercury, Lead, Cadmium...)  • Removes Radiation Particles (nuclear, x-rays, security scanners, medical) • Detoxes Environmental Toxins (smoke particles, cell phone radiation, chemicals, plastics, pesticides) • Stops Viruses and Parasites (smothers and starves them) • Stops Mycotoxins (fungal, and mold spores) • Relieves Symptoms of Fibromyalgia, Chronic Fatigue, MS, Morgellons, and "mystery" Diseases • Relieves Symptoms of Diabetes Mellitus, Arthritis, Alzheimer's, and IBS • Enhances Bone Formation and Red Blood Cells • Relieves Symptoms of Chronic Diarrhea • Natural Cleanse for Chemtrail Residue and Glyphosate Toxicity • Natural Immunity Booster (makes stealth invaders visible and traps/zaps them) • Balances Total Cholesterol (Reduces LDL and VLDL and Boosts Healthy HDL) • Alkalizing Effect on Your Whole Body (alkaline effect on the body) Mined in the US! 😎  SAVE ON A SET OF 3 These statements have not been evaluated by the food and drug administration. These products are not intended to diagnose, treat, cure, or prevent any disease.